---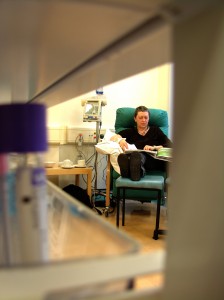 In 2006 Ligresti et al. demonstrated for the first time that CBD potently and selectively inhibited the growth of different breast tumour cell lines (MCF7, MDA-MB-231), with an IC50 of about 6 µm, and exhibited significantly lower potency in non-cancer cells. CBD and CBD-rich extracts (containing approximately 70% CBD together with lesser amounts of other cannabinoids) also inhibited the growth of xenografts, obtained by s.c. injection into athymic mice of human MDA-MB-231 cells, and reduced infiltration of lung metastases derived from intrapaw injection of breast carcinoma cells. Among the possible cellular and molecular mechanisms underlying these effects, CBD seemed to involve direct TRPV1 activation and/or CB2 indirect activation (via FAAH), as well as induction of oxidative stress.
Later on, McAllister's group demonstrated that, besides proliferation, CBD also interfered with two other crucial steps of breast cancer cell progression, invasion and metastasization. Among the three different groups of cannabinoid compounds tested (phytocannabinoids with affinity for CB1and CB2 receptors, phytocannabinoids with no appreciable affinity for CB1 and CB2 receptors and synthetic compounds with affinity for CB1and CB2 receptors), CBD was shown to be one of the most effective inhibitors of human breast cancer cell proliferation, being equipotent to Δ9-THC and CP55940 in inhibiting, respectively, MDA-MB-231 and MDA-MB-436 cell growth, and being the most potent inhibitor of the MDA-MB-231 cell migration. Interestingly, CBD regulated the expression of key genes involved in the control of cell proliferation and invasion through the downregulation of Id-1 expression, an inhibitor of basic helix-loop-helix transcription factors, whose overexpression in breast cancer cells is responsible for proliferation, migration and invasion. Therefore, the ability of CBD to decrease significantly Id-1 expression in breast cancer cells was associated with its efficacy in reducing tumour aggressiveness.
---
Recent Research on Breast Cancer and Cannabidiol (CBD)
Antitumor Activity Of Plant Cannabinoids With Emphasis  On The Effect Of Cannabidiol On Human Breast Carcinoma
Results obtained in a panel of tumor cell lines clearly indicate that, of the five natural compounds tested, cannabidiol is the most potent inhibitor of cancer cell growth (IC(50) between 6.0 and 10.6 microM), with significantly lower potency in noncancer cells. The cannabidiol-rich extract was equipotent to cannabidiol, whereas cannabigerol and cannabichromene followed in the rank of potency. Both cannabidiol and the cannabidiol-rich extract inhibited the growth of xenograft tumors obtained by s.c. injection into athymic mice of human MDA-MB-231 breast carcinoma or rat v-K-ras-transformed thyroid epithelial cells and reduced lung metastases deriving from intrapaw injection of MDA-MB-231 cells.
Targeting Multiple Cannabinoid Anti-Tumour Pathways
The psychoactive cannabinoid Δ9-tetrahydrocannabinol (THC) and the non-psychoactive cannabinoid cannabidiol (CBD) can both reduce cancer progression, each through distinct anti-tumour pathways. Our goal was to discover a compound that could efficiently target both cannabinoid anti-tumour pathways. O-1663 prolonged survival in advanced stages of breast cancer metastasis. Developing compounds that can simultaneously target multiple cannabinoid anti-tumour pathways efficiently may provide a novel approach for the treatment of patients with metastatic breast cancer.

---
Information on Breast Cancer
Breast cancer is a malignant tumor that starts in the cells of the breast. A malignant tumor is a group of cancer cells that can grow into (invade) surrounding tissues or spread (metastasize) to distant areas of the body. The disease occurs almost entirely in women, but men can get it, too.
Most breast cancers begin in the cells that line the ducts (ductal cancers). Some begin in the cells that line the lobules (lobular cancers), while a small number start in other tissues.
The lymph system is important to understand because it is one way breast cancers can spread. This system has several parts.
Lymph nodes are small, bean-shaped collections of immune system cells (cells that are important in fighting infections) that are connected by lymphatic vessels. If the cancer cells have spread to lymph nodes, there is a higher chance that the cells could have also gotten into the bloodstream and spread (metastasized) to other sites in the body. The more lymph nodes with breast cancer cells, the more likely it is that the cancer may be found in other organs as well. Because of this, finding cancer in one or more lymph nodes often affects the treatment plan. Still, not all women with cancer cells in their lymph nodes develop metastases, and some women can have no cancer cells in their lymph nodes and later develop metastases.
⇒ Causes, Risk Factors, and Prevention

A risk factor is anything that affects your chance of getting a disease, such as cancer. Different cancers have different risk factors. For example, exposing skin to strong sunlight is a risk factor for skin cancer. Smoking is a risk factor for cancers of the lung, mouth, larynx (voice box), bladder, kidney, and several other organs.
But risk factors don't tell us everything. Having a risk factor, or even several, does not mean that you will get the disease. Most women who have one or more breast cancer risk factors never develop the disease, while many women with breast cancer have no apparent risk factors (other than being a woman and growing older). Even when a woman with risk factors develops breast cancer, it is hard to know just how much these factors might have contributed.