It's been over a year since the House of Representatives approved Carly's Law in Alabama. This bill allowed testing of cannabidiol for treatment of children with severe seizures. Since the passage of this law, some of Alabama's severest epilepsy patients gained access to clinical trials and began using the the oil. Although it's only been 6 months into trials, promising results are emerging as doctors are pleased with what they are observing.
Melanie Posey reports on the condition of Carly Chandler from Birmingham, Alabama. Before being selected to take part in this clinical trial, 4 year old Chandler could barely move or perform basic motor skills. Posey reports that Chandler is now able to do so now after six months of using CBD oil, but she's not alone.
"Her cognitive ability has improved. We saw that improvement within two treatments. Her myoclonic seizures–she was having two to 300 a day, are now pretty much non-existent throughout the day. And so my reaction is absolutely positive reaction," Carly's dad, Dustin Chandler, said.
"I am surprised at how good of a response we're seeing," Dr. Jerzy Szaflarski said.
Szaflarski oversees the program in which about 60 children and adult patients are enrolled. He said all but three patients have seen some sort of positive response to the oil.
Many are having more than a 90 percent reduction in either the number of seizures or the severity of them. Doctors say that is a huge accomplishment considering the patients have all undergone multiple treatments, drugs, some even multiple surgeries, with no success.
Szaflarski said some patients, like Carly, are also more interactive, more involved, and more playful than ever before.
With such positive results in clinical trials, the world is taking notice as families around the world are demanding access to CBD.
In Mexico City, a judge agreed in August to issue a special exemption granting the parents of Grace access to CBD oil. This landmark ruling in Mexico City is so important as it allows the family to import the medication containing cannabidiol, a substance currently prohibited by Mexican law.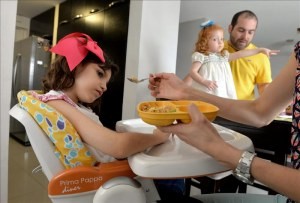 Grace, who experiences as many as 400 seizures a day, will continue receiving the four anticonvulsant drugs she is already taking, Benavidez said.
The physician treating Grace told her parents that it would take at least a month for the new medicine to begin to have an effect.
Even so, the family has high hopes for the treatment.
"We hope there will be a decrease in her seizures or, better yet, that they disappear, and with that her quality of life improves and her motor development advances," Benavides said.