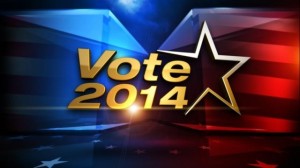 Seth Hyman has worked tirelessly for the past three years to get medical marijuana on the ballot so his daughter could have a fighting chance.
"I don't think the facts are being shared with the public and it's not fair to the patients," Hyman said.
Hyman's little girl, Rebecca, is developmentally disabled and has intractable epilepsy. Rebecca has over 200 seizures every day.
Hyman's focus on Amendment 2 was to obtain for Rebecca, and patients like her, an oil derived from the marijuana plant. Cannabidiol or CBD is a compound found in cannabis that has medical effects, but is low in THC so it has no euphoric affect. Research shows that this compound can greatly reduce seizures, Hyman said.
After speaking on the Florida State Legislature floor in January, Hyman managed to change the minds of even the staunchest opposition, including Florida House Speaker Will Weatherford (R-Wesley Chapel).
"Well when I met with him face to face he told me that he would do whatever he can to help children like Becca," Hyman said. "And that if it's rolled out in the right way he would support it."

In a historic vote, Senate Bill 1030 passed in a floor vote of 36-3 early this year, legalizing the oil, known by its brand name, Charlotte's Web. State senators: Thad Altman, R-Melbourne, Dorothy L. Hukill, R-Port Orange and Jack Latvala, R-Clearwater, voted against the bill.
And that's where support stopped.
The opposition, including the Drug Free Florida Committee, started by Mel Sembler, a well-known GOP fundraiser – has fought Amendment 2.
Millions have been spent on TV ads, which Hyman says, are all aimed at scaring the public. One claim is that young children can legally get it and that there's no parental control.
Opponents have also posted a cartoon on YouTube that is over six-minutes long, claiming medical marijuana is a scheme to legalize a substance that will hurt children and communities. If Amendment 2 passes, according to the cartoon, Florida will become a magnet for narco-tourism as they showed people arriving from a tour bus.
Further, the cartoon claims the proposed measure, has dangerous loopholes that put kids at risk such as needing only a simple doctor's recommendation, not a prescription.
"Here's my pot card," a child says while standing in line with card in hand and then grabbling marijuana cigarettes in the cartoon.
But according to Florida law, "a parent or guardian must provide consent for medical treatment," and that's only after a doctor's recommendation.
Opponents say crime will increase while using California and Colorado as an example claiming that crime increased in both states after medical marijuana was approved.
But data from the Federal Bureau of Investigation shows a different trend.
In fact, violent crime rates in California in 1995 – a year before medical marijuana was approved – were 966 crimes per 100,000 population. Five years later (2000) after medical marijuana became legalized, violent crime dropped to 621 crimes per 100,000 people, FBI data show.
In Colorado, where medical marijuana was approved in 2011, FBI data showed that 320 violent crimes were reported per 100,000 inhabitants before the measure was approved.
Two years later (2013), Colorado followed the same trend: crime dropped to 207 crimes per 100,000 population.
Suman Kakar, a criminology professor at Florida International University says crime increases or declines have nothing to do with medical marijuana.
"It's interesting to note that I compared the same year when it changed in California, a positive change when crime went up, it went up in other states too," said Kakar who also compared crime rates from California with Texas and Arizona – both states without medical marijuana laws.
Even if medical marijuana were to be approved by voters on Tuesday, it would be more than a year before pot farms and dispensaries were operational. The Florida Legislature approved Charlotte's Web, but it's still caught up in political wrangling – arguing applications and the roll out process.
Meanwhile, patients like Rebecca, sit and wait while enduring pain every day.
"We're hopeful, but won't get too excited," Hyman said.