Cannabidiol (CBD) is a non psychoactive component of cannabis sativa.
CBD extracted from hemp is now legal under federal law after the passage of the 2014 Farm Bill, and is available in all states. The hemp plant itself, now legally defined as Cannabis sativa containing less than 0.3% THC, was made legal under the 2018 farm bill.
Many states have legalized all forms of cannabis for medicinal purposes. Yet nowhere in the United States are veterinarians legally allowed to prescribe CBD. Only in California can veterinarians even speak to pet owners about cannabis as medicine, due to California Assembly Bill 2215, signed into law in September 2018.
More and more vets, however, are researching and speaking out about the benefits of CBD for pets.
Dr Stephanie McGrath
Dr. Stephanie McGrath from Colorado State University College of Veterinary Medicine & Biomedical Sciences studies CBD as medicine. She received a $350,000 grant from the American Kennel Club to research cannabidiol's effects on dogs with epilepsy.
In a preliminary study, the college reports, Dr. McGrath found that "Eighty-nine percent of dogs who received CBD in a clinical trial had a reduction in the frequency of seizures."
Dr. McGrath is currently seeking dogs with epilepsy to complete more clinical trials.
Dr. Casara Andre
Dr. Casara Andre is a veterinarian from Wheat Ridge, CO who founded Veterinarycannabis.org, described on its website as "a social enterprise dedicated to providing practical education to both the veterinary & cannabis industries". The site offers online training for both vets and pet owners.
Dr. Andre takes a holistic approach to her veterinary practice, and emphasizes pets must start at low doses of cannabis products, increasing gradually to the pet's needs, taking into consideration that each pet should be treated individually.
Dr. Andre uses both THC and CBD to treat pets, depending on their condition.
From an interview with Colorado Springs Independent:
"Nowhere in medicine is there a recipe [that works for] every animal, but definitely not in cannabis; it has to be very individualized," Andre says. This is due to the fact that when you're working with cannabis you're affecting the endocannabinoid system. Composed of neurotransmitters and cannabinoid receptor proteins throughout the central nervous system in mammals, the endocannabinoid system is involved in regulating many of the body's systems, including, but not limited to, fertility, appetite, pain sensation, and mood.
Dr. Andre only uses cannabis products produced by natural extraction methods. From Westword:
Whole-plant products are best, she says, but growing and extraction methods are very important. A fan of CO2 extraction, Andre prefers concentrates free of any potential solvents. If a contaminant is bad for humans, the effect can be magnified in a small animal, she explains.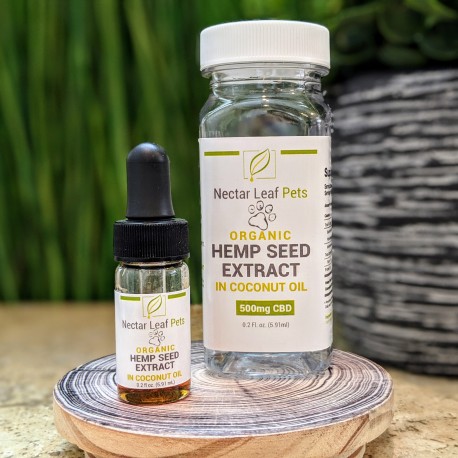 Dr. Robert Silver
Dr. Robert Silver is one of the nation's leading holistic veterinarians, an authority on cannabis as veterinary medicine, and author of Medical Marijuana & Your Pet: The Definitive Guide.
Dr. Silver's blog is Nurseyourpet.com, where he writes about cannabis and other holistic methods of caring for animals. Here Dr. Silver explains his experience with CBD:
"This is not about getting our pets high at all. It's about getting them well. And it's about trying to use the medicine in such a way that they don't get high, a factor that you can modulate with CBD-rich products for example."

Hemp-based, CBD-rich products are often criticized because they have pretty much zero THC and the important medical properties that come with it.

Dr. Rob Silver however has seen positive results with clean, quality-assured hemp products.

"Right now I'm working with a canine patient who is using a hemp product for seizures," Silver explains. "It was a situation where nothing else was helping. They started giving the dog a couple drops of this product daily, and it hasn't had a seizure in a month."

And in another case, one of the oncologists Silver works with was giving a CBD-rich hemp product to a patient who had a large tumor on the tongue and after six weeks the tumor reduced to the size of a pencil eraser, Silver says.

"We really hadn't thought that CBD alone – which is really what you're getting with the hemp – would be enough to knock back the cancer the way this did."
Not about getting your pets high. AT ALL!
Dr. Cornelia Wagner
Dr. Cornelia Wagner owns Hawthorne Veterinary Clinic in Portland, OR. Originally from Germany, where she completed her veterinary degree in 1996, Dr. Wagner believes in the "integration of Eastern and Western Medicine guided by compassion, communication, and appropriate diagnostics in order to achieve the best possible outcome".
"In our clinic, we have seen beneficial therapeutic results in our patients using CBD products derived from industrial hemp, particularly in pets with arthritic pain and anxiety issues. Other conditions that could benefit from cannabis include seizures, inflammation, dermatitis, cancer and behavioral problems."
President of National Veterinary Professionals Union Liz Hughston
Liz Hughston is a leader in the veterinary field. In addition to being President of National Veterinary Professionals Union, she served in the past as President of the Academy of Internal Medicine Veterinary Technicians. Hughston is also co-founder of Veterinarycannabis.org with Dr. Andre.
She told Greenstate.com:
"Every animal with a spinal column also has an endocannabinoid system, so it stands to reason that cannabis can help many species," she said. "I think we've reached an inflection point in society now where cannabis use in humans has become much more widespread and accepted. People see the good it does in people and want to provide the same benefits to their pets."
Dr. Gary Richter: "America's Favorite Veterinarian"
If "America's Favorite Veterinarian" recommends CBD, then it must work.
Dr. Gary Richter is an award winning veterinarian and the founder of Holistic Veterinary Care and Rehabilitation center and director of Montclair Veterinary Hospital in Oakland, CA. His book is called The Ultimate Pet Health Guide.
In an article for ProjectCBD.org, Richter says:
many veterinarians and pet owners have seen the positive effects of medical cannabis for the treatment of arthritis and other forms of pain in animals. The research merely confirms what many of us have seen first-hand.
Dr. Richter's advice is to use tinctures as medicine, rather than CBD infused in dog treats.
Liquids are preferable because the dosing can be accurately controlled and because CBD may be better absorbed through the tissues of the mouth rather than through the digestive tract.