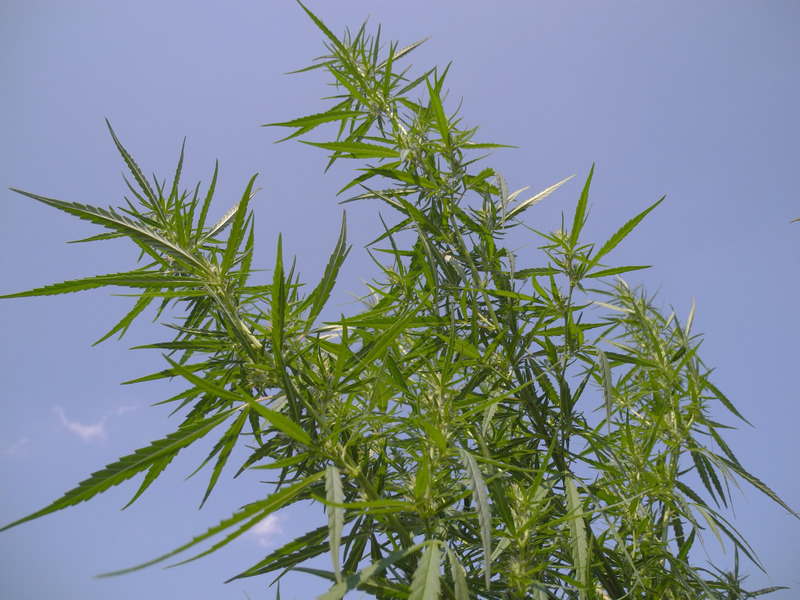 The Agriculture Improvement Act, or 2018 Farm Bill, was signed into law December 20, 2018. It legalizes the production of industrial hemp nationwide.
Hemp and marijuana come from the same plant, Cannabis sativa. Different strains of this plant are used to produce more fiber, more flower, more CBD, or more THC. In Section 297A, the law creates a new legal definition of hemp (as opposed to marijuana) as containing less than 0.3% of THC:
The term 'hemp' means the plant Cannabis sativa L. and any part of that plant, including the seeds thereof and all derivatives, extracts, cannabinoids, isomers, acids, salts, and salts of isomers, whether growing or not, with a delta-9 tetrahydrocannabinol concentration of not more than 0.3 percent on a dry weight basis.
Previously, in order for CBD products to be legal, they had to be sourced from hemp grown outside the United States. Nectar Leaf CBD Hemp Extract is extracted from a therapeutic strain of hemp grown in Europe, containing no THC, thus legal to sell in the United States.
In the future, CBD sourced from hemp grown in the United States will be legal nationwide, once proper strains are able to be cultivated in every state by hemp farmers.
However, American hemp farmers and CBD producers will have to wait for the states to act before they are able to grow and extract products from the crop legally.
Section 297B gives state and tribal governments the option of having regulatory authority over hemp production within state and tribal boundaries.
Some states are eager to pass laws that will help boost their economies, but others are determined to put up a political struggle.
Ohio
Ohio is a state suffering horribly from the opioid epidemic. In October 2018, months before the passage of the 2018 Farm Bill, the Ohio Board of Pharmacy moved to ban CBD as well as kratom sales in the state, two drugs that according to thousands of consumer reports, have aided in addiction recovery.
But state lawmakers are moving to change this situation. The Enquirer out of Cincinnati reported:
Ohio law does not differentiate between hemp and marijuana, so state regulators have said all hemp-related products are legal only through the state's new medical marijuana program. That position, publicly issued in August, has led to stores pulling hemp extracts from their shelves.

Senate Bill 57, sponsored by Republican Sens. Steve Huffman and Brian Hill, would legalize a cannabis compound called cannabidiol, or CBD, derived from hemp as well as other products made from hemp or infused with hemp extracts.

https://www.cincinnati.com/story/news/politics/2019/02/19/hemp-bill-introduced-ohio-senate/2872727002/
North Carolina
North Carolina State University has a program called the Industrial Hemp Pilot Program, which legally licenses farmers in the state to grow and sell hemp. NC State has been working with North Carolina farmers for decades in helping to foster and develop new products such as sustainable and organic produce and grass fed livestock.
From the Raleigh based newspaper The News & Observer:
The North Carolina program already licenses farmers and does spot checks to measure THC, giving the state a head start in winning federal approval, said Blake Butler, the executive director of the N.C. Industrial Hemp Association, an industry group. Butler thinks legalization will ultimately create a boom for hemp in North Carolina, though it's not clear what the USDA's approach will look like and how soon a permanent state program will be in place.

"We've waited for a long time for industrial hemp to be legal," he said in an interview. "I think everyone wants to do it right and not rush into it."

Growing hemp would still pose some risks for farmers, who must worry about THC levels inching above the 0.3 percent legal limit. Under the state's research program, fields with plants that have tested too high are destroyed.

But the farm bill provides some relief to farmers wishing to grow hemp. As a commodity, hemp would be eligible for crop insurance, which has not been available.

https://www.newsobserver.com/news/politics-government/article223055900.html#storylink=cpy
South Dakota
South Dakota's Republican Governor Kristi Noem is opposing the production of industrial hemp in her state, citing limited state resources for inspecting and testing crops for THC levels.
From Rapid City Journal, 2/18/19:
The governor on Friday tweeted photos of the state health lab's drug locker "bursting at the seams." Legalizing the crop would flood the lab with more tests and strain law enforcement, she said. Noem tweeted again Sunday about hemp, questioning why South Dakota would move forward with something that could "jeopardize law enforcement, expand our drug epidemic, or threaten the livelihood of existing crops?"

https://rapidcityjournal.com/news/state-and-regional/senate-debate-of-industrial-hemp-measure-postponed/article_389074a4-fcf1-5ba2-9700-93eb13ece972.html
The Republican state legislature is strongly in favor of legalizing hemp production in the state. However not much can be codified with veto power form an opposing governor.

Montana
Lagging from politicians in South Dakota could be detrimental as neighboring states get on board to clear the path for hemp growers. All hands are on deck for hemp legalization in Montana.
Montana Public Radio reports:
Sen. Tom Jacobson, D-Great Falls, is sponsoring two hemp-related bills. Senate Bill 176 would allow the Montana Department of Agriculture to create a hemp certification program plan. Senate Bill 177 would eliminate the criminal background check requirement to grow hemp. The Montana Senate passed both bills this week and they now head to the House of Representatives…Jacobson introduced a third bill that would exempt hemp processing facilities from property taxes, but that bill — Senate Bill 178 — was tabled in committee. Jacobson said he plans to work on amendments to move the bill forward.

http://www.mtpr.org/post/bills-aimed-montana-s-hemp-industry-move-forward
Farmers in Big Sky Country are not surprisingly on board:
The Montana Farmers Union supports the legislation, and the group's president, Alan Merrill, says hemp is the crop of the future. He says under a pilot program, the state had about 2,500 acres of hemp growing, and that it's expanding to more than 22,000 acres with legalization.

"It's growing like wildfire," Merrill said.

Jacobson said the sustainability of the crop is appealing, and that one acre of hemp can produce three times the amount of paper as an acre of trees.

"It's a very exciting time for our ag community. I think we are on the front edge of some big things," Jacobson said.




http://www.mtpr.org/post/bills-aimed-montana-s-hemp-industry-move-forward